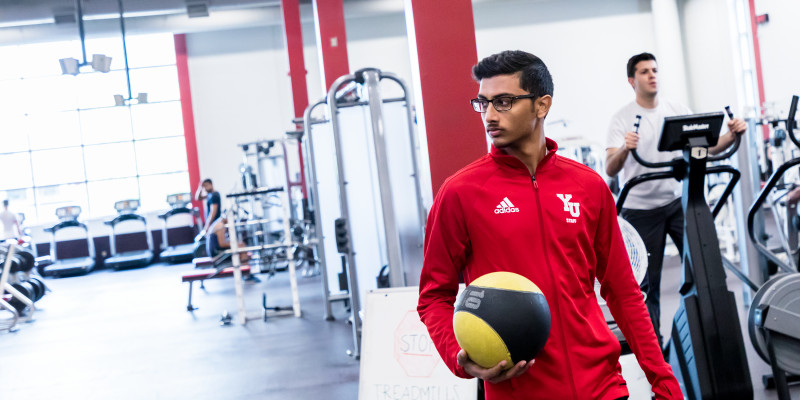 Vice-Provost Students
Equity Climate Review of York University's Varsity Student-Athlete Program
October 28, 2021
All members of our community must be able to enjoy an environment for work, study, athletics, and recreation free of violence, harassment, intimidation, bullying, and discrimination.
The last 18+ months have been difficult for our students with the prevalence of violence against Black, Indigenous, and racialized persons in Canada and the US and the impact of COVID-19 on all our lives. But despite the trauma and impact, or perhaps as a result, our student-athletes raised important matters that need to be addressed. We listened.
While engaging in a series of meetings with individual student-athletes, we considered it important to explore the culture in the varsity program beyond those who contacted us, and commissioned Ethical Associates, to develop and conduct an Equity Climate Review of our varsity student-athlete program. In September 2020 we wrote to all student-athletes, and student-athletic alumni dating back to 2012, and invited them to participate.
Why a climate survey? Such a survey invites students, and staff, to share their perceptions, experiences, and attitudes regarding issues of importance to our community.
I am grateful to the more than 300 student-athletes and athletic alumni, 28 coaching staff, and 39 administrative staff who participated. Their input was open, frank, acknowledged what was working and advances we have made in recent years. It also challenged us to focus our work in areas that need immediate attention, including anti-Black racism and other forms of racism, mental health, sexual violence, pathways for student-athletes to raise complaints in a safe environment, and more training in all these areas.
York University strives to offer students a high-quality learning experience that supports their growth and allows them to achieve their goals. Our student-athletes have shared with us the barriers they face in achieving these goals. This Equity Climate Review, and its 22 recommendations, sets out a clear path forward. We accept all recommendations of the Review and commit to actioning them.
As a community, it is critical that important issues are identified and brought forward for consideration and action. Where barriers exist, they must be removed. We are committed to working with our colleagues in the Centre for Sexual Violence Response, Support and Education, the Centre for Human Rights and Inclusion, Student Counselling, Health and Well-being, as well as colleagues in the Faculties and the Office Vice-President Equity, People and Culture to expand the educational and support opportunities available to all our student-athletes and staff, and to increase our efforts towards recruiting a more diverse coaching and administrative staff in the future.
Student-athletes strive for excellence. They remind us of the challenges they face in balancing academic demands with the demands of their sport, and their personal challenges. Supporting student-athletes' commitment to excellence, across their full student journey, is our priority.
Alongside the release of this Equity Climate Review is an action plan that lays out our commitments. York Athletics and Recreation currently has searches in place for two key staff members, the Director of Varsity and a Senior Diversity and Inclusion Officer. We have also developed a comprehensive education plan for our students, our coaching staff and our administrative staff which launches this Fall term.
We are committed to ensuring a climate in which all our students can thrive and will continue to hold ourselves accountable in reporting our progress to you.
Lucy Fromowitz
Vice-Provost, Students
---

Athletics Equity Climate Review
This Equity Climate Review was conducted in relation to the student-athlete experience at York University's Athletics & Recreation Department. The Review was conducted by a Review Panel of independent human rights practitioners through Ethical Associates Inc. and was established by York's senior leadership for the purpose of exploring several key objectives, as outlined in the report.