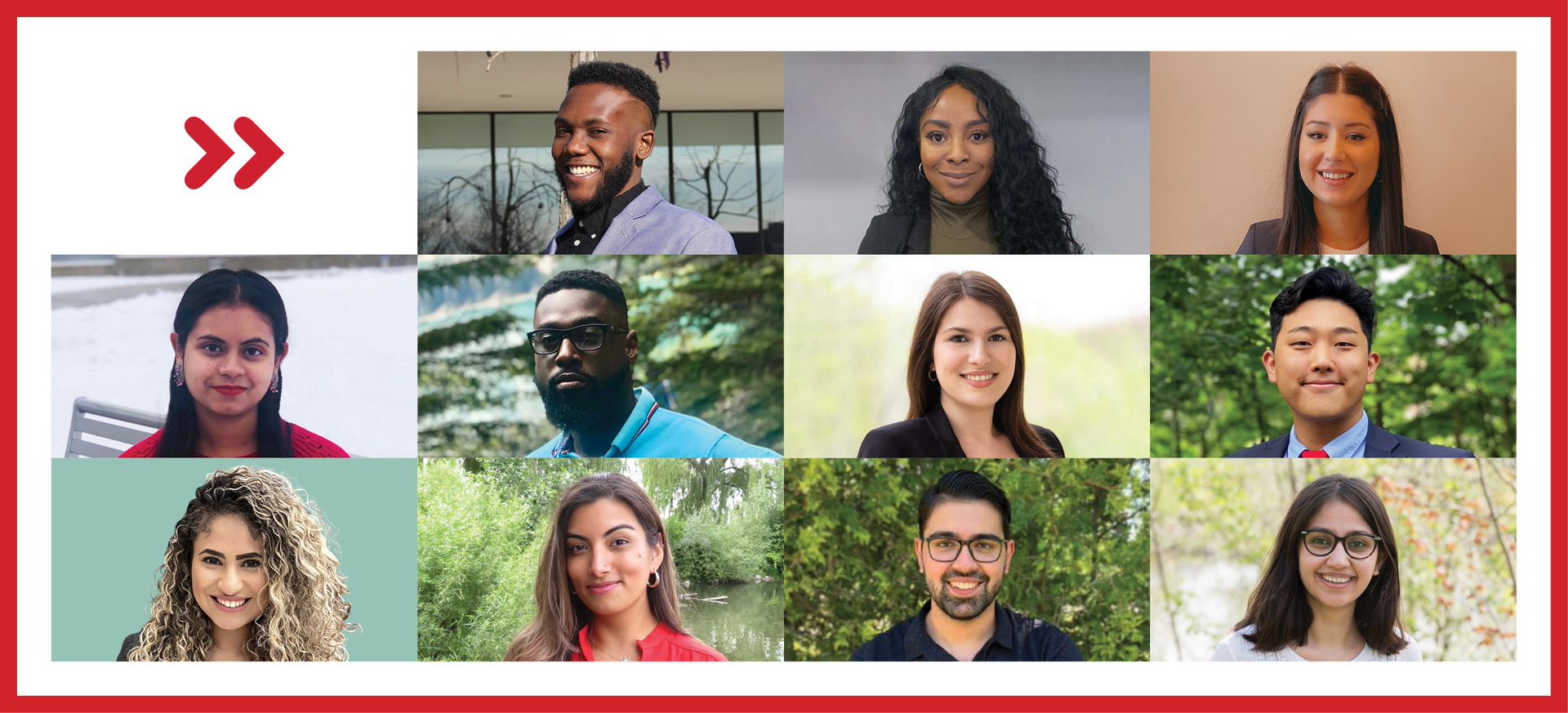 Robert Tiffin Student Award Winners 2021: (top to bottom, left to right) Ammon Cherry, Bri Darboh, Fara Seddigh, Humayra Rashid Safa, Jean-Marc Moke, Magdalena Kajo, Matthew Lim, Monica Shafik, Simi Sahota, Amin Hatamnejad, Viswaveda Joshi.
---
The Robert Tiffin Student Leadership Awards recognize students whose leadership has contributed to the growth, development, and vitality of York University. Both undergraduate and graduate students who apply for awards are role models who exhibit leadership, dedication, integrity, enthusiasm, and the pursuit of excellence through their endeavors.
York University has named these awards after Robert Tiffin who served as York University's Vice-President of Students over 9 years. During this time, Rob transformed his operation into one of the most professional student service organizations in the country, serving one of Canada's largest student populations. This transformation required strong leadership, dedication, integrity and fairness. It is these qualities that we have chosen to recognize in our student leaders.
Students may only receive one Robert Tiffin Student Leadership Award in their academic career at York University (i.e. undergraduate award winners may not be nominated again during graduate studies).
Who can be nominated?
Undergraduate or graduate students who are currently enrolled and exhibit leadership, dedication, integrity, enthusiasm and the pursuit of excellence through their endeavours.
All members of the University community (students, faculty, staff and alumni) are encouraged to submit nominations for this award.
Selection Criteria
Any member of the University community - including students, faculty, staff or alumni - is welcome to submit nominations for the award. Recipients must currently be enrolled at York University in either a full-time or part-time program and be in good academic standing at time of nomination.
Leadership and involvement should be considered in relation to good academic standing. The value of the student's contribution, rather than an office held, should be the major criterion considered.
A nominee's voluntary contributions may take the form of any one, or a combination, of the following:
leadership on committees, campus groups or organizations
active involvement on academic committees and councils
improvement in the quality of life of students;
encouragement of fellow students to become involved in extracurricular activities;
contribution to the sense of community at York University.
Nomination package must include:
A letter of recommendation (maximum 500 words) from primary nominator (York University staff, faculty or alumni/ae);
A statement of support from a secondary nominator (maximum 350 words), representing one nominating constituency (York University students, staff, faculty, alumni/ae) not represented by the primary nominator;
A candidate statement (maximum 500 words) reflecting upon and describing how co- curricular involvement at York University has affected their university experience, and helped to enhance the quality of life on campus.
A current resume, including detailed descriptions of involvement at the University
Nomination Deadline
The nomination deadline is Sunday, March 13, 2022.
Selection Process
All nominations will then be reviewed by a University-wide selection committee which will choose up to 10 students. These students are considered role models who exhibit leadership, dedication, integrity, enthusiasm and the pursuit of excellence through their endeavors. The committee will have at least two students as members.
Awards Presentations:
Announcements and presentation arrangements will follow from the Office of the Vice-Provost Students. Recipients will be honoured at a virtual award reception and have their name added to the awards display in the Vari Hall Rotunda.
Questions
Please email us at vpstudents@yorku.ca
Le Prix de leadership étudiant Robert Tiffin a été établi en 2012 en l'honneur de Robert J. Tiffin, qui a été vice-président des Affaires étudiantes de l'Université York pendant neuf ans. Grâce à son leadership, à son dévouement et à son intégrité, M. Tiffin a transformé les Affaires étudiantes en l'un des services aux étudiants les plus professionnels du pays, au service de l'une des plus grandes populations étudiantes du Canada.
Ce prix est décerné à des étudiants dont le leadership a contribué à la croissance, au développement et à la vitalité de l'Université York.
Qui peut être proposé?
Les étudiants de premier, deuxième ou troisième cycle, actuellement inscrits, qui font preuve de leadership, de dévouement, d'intégrité, d'enthousiasme et de recherche de l'excellence par leurs efforts.
Nous encourageons tous les membres de la communauté universitaire (étudiants, professeurs, employés et anciens élèves) à soumettre des candidatures pour ce prix.
Sélection
La sélection sera basée sur le leadership ou l'implication au sein de la communauté de York et sur des résultats scolaires exceptionnels.
Les récipiendaires seront honorés lors d'une réception virtuelle de remise des prix et leur nom sera ajouté à l'affichage des prix dans la rotonde du Vari Hall. Ils recevront également un certificat et le prix sera noté sur leur relevé de notes.
Date limite pour les mises en candidature
La date limite pour les mises en candidature est le dimanche 13 mars 2022.
La trousse de candidature doit inclure :
une lettre de recommandation du proposant principal (maximum de 500 mots);
une déclaration d'appui du proposant secondaire représentant une communauté de York (étudiants, employés, professeurs ou anciens élèves de l'Université York) non représentée par le proposant principal (maximum de 350 mots);
une déclaration de la candidate ou du candidat qui décrit comment sa participation à des activités para-universitaires à l'Université York a enrichi son expérience universitaire et amélioré la qualité de vie sur le campus (maximum de 500 mots; indiquer le numéro d'étudiant en haut de la page); et
le curriculum vitæ contenant des descriptions détaillées de la participation à l'Université.
Questions
Envoyez-nous un courriel à vpstudents@yorku.ca